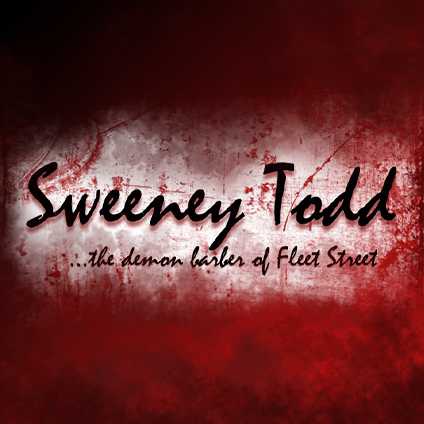 Sweeney Todd, the demon barber of Fleet Street.
October 2021
Book by Hugh Wheeler
Music and Lyrics by Stephen Sondheim
Based on an adaptation by Christopher Bond
at the Chilliwack Cultural Centre
An infamous tale, Sweeney Todd, an unjustly exiled barber, returns to nineteenth century London, seeking vengeance against the lecherous judge who framed him and ravaged his young wife. The road to revenge leads Todd to Mrs. Lovett, a resourceful proprietress of a failing pie shop, above which, he opens a new barber practice. Mrs. Lovett's luck sharply shifts when Todd's thirst for blood inspires the integration of an ingredient into her meat pies that has the people of London lining up... and the carnage has only just begun!
at the Chilliwack Cultural Centre
Cast
Reginald Pillay
Sweeney Todd
Reginald is thrilled to be making his return to the Chilliwack Cultural Centre. Reginald previously appeared as Samuel in The Pirates of Penzance (Chilliwack Opera Troupe), Balthazar in Amahl and the Night Visitors (Fraser Valley Philharmonic Society), and Lou in Light Sensitive (Langley Players). For treading the boards, Reginald has won five Community Theatre Coalition awards and a Theatre BC Fraser Valley Zone Festival award for Outstanding Supporting Actor. Reginald gives a special thanks to Steffi, Nicola, Shelley, Michael, and the entire cast and crew.
Emily Hamel-Brisson
Mrs. Lovett
Everything Emily has ever done in her life has led to this moment. From singing in the living room, to donning a top hat and dancing around the stage for her first vocal recital, it is with great pride that she can say today, "Let them eat pie." Check out Emily's wig and sewing work on Instagram at @theatremee, and heck, go check out her princess party company at @everaftercharacterco.
Lauren Clift
Johanna
Lauren is thrilled to be a part of one of her all-time favourite musicals! Lauren has been singing her way through life from a young age. She has performed in Sunset Boulevard, Bye Bye Birdie, Oliver, and most recently Secondary Characters' production of Sweeney Todd as Johanna. This is technically Lauren's second performance of Mamma Mia. The first was when she was twelve years old and underwent awake surgery. After the surgery, the nurses informed her that she had been singing Mamma Mia the entire surgery. Lauren is thrilled to now be a part of an 'official' production of Mamma Mia, thirteen years later, and to be performing for more than a room full of doctors. Lauren would like to give a special thanks to the wonderful cast and crew and especially to her family and grandparents who brought musicals into her life at a young age. To them, she can only say "Thank you for the music."
Connor Hogg
Anthony
Connor is a recent graduate of Capilano University's Musical Theatre program. Connor is excited to start his journey in the acting world and hopes to be able to pursue theatre and film. Connor's previous credits include Into the Woods (CapU Theatre), Secret in the Wings (CapU Theatre), Seven Stories (CapU Theatre), and Spring Awakening (Arbutus Studios). Connor thanks all of you for coming and hopes you enjoy this bloody good show.
Paula Quick
Adolfo Pirelli
Pauline Dynowski
Tobias Ragg
Pauline is delighted to return to theatre with Sweeney Todd and thinks this light hearted comedy is exactly what we need right now. Pauline feels more people need to know that ye olde pye crusts were called 'coffyns' and stuffed with fowl. Thus the chicken leg pulled double duty as both meat and handles. Please follow her cats @mr_colin_furth and @catrickstewart, and her personal shenanigans @fairyprincessp and @everaftercharacterco.
Michael Holman
Beadle Bamford
Michael is excited to be making his return to the stage as a villain. Michael's favourite acting credits include Jamie Wellerstein in The Last Five Years (TIC, 2020), Brindsley Miller in Black Comedy (TIC, 2019), and Potiphar in Joseph and the Amazing Technicolor Dreamcoat (Gallery 7, 2019). Sweeney Todd is Michael's first show with Secondary Characters. Michael hopes you enjoy the show that the cast & crew have poured their hearts into.
Sheri Eyre
Lucy
Sheri is a 2006 graduate of the UFV Theatre Department, and is currently teaching Drama at Brookswood Secondary School in Langley. Sheri's last onstage appearance was in the Chilliwack Players Guild's production of A Christmas Carol as Mrs. Cratchit in 2019. Sheri is elated to be coming back to theatre with this bloody good show.
Sebastian Dickey
Mr. Fogg
Sebastian is a 2021 graduate of Chilliwack Secondary School, and is currently enrolled in the Bachelor of Arts program at UFV with plans to major in Theatre and minor in Film. Sebastian has a passion for performance and musical theatre, and is glad to make Sweeney Todd his first on-stage performance in more than six years.
Kimberly Iversen
Ensemble
This is Kimberly's third production with Secondary Characters, having previously appeared in Sweeney Todd: The Demon Barber of Fleet Street and Elf: The Musical. Kimberly's other credits within the community include Anne of Green Gables: The Musical and Urinetown. Outside of theatre, she enjoys playing the flute, stitching embroidery, and spending time with her nieces and nephews.
Dawn Graham
Ensemble
Dawn is delighted to be joining Secondary Characters. Dawn has performed with the Rossland Light Opera Players as Mother Abbess in Sound of Music, Mrs. Bennet in Pride and Prejudice, and The Good Witch in Wizard of Oz. Dawn has directed, produced, and choreographed several shows in the Kootenays. She also wrote and performed a one-woman show, celebrating her love of musical theatre. Dawn holds a diploma in Voice Instruction and recently graduated from UFV to become an elementary school teacher in Chilliwack.
Amethyst Louis
Ensemble
Amethyst has been acting since 2011 and has been in two productions prior to Sweeney Todd. Amethyst has been vocally training for eight years and has been part of an original music video with N'we Jinan Artists. Amethyst is excited to be performing again and wishes to pursue further education in the performing arts.
Taiya Van Egdom
Ensemble Dancer
Taiya is a Grade 10 student at Chilliwack Secondary School. Taiya has been dancing at Creative Outlet since she was three. Taiya has performed in The Nutcracker (Ballet Victoria) three times, and she performed in a local production of Coming Home (Groove Force Productions). Taiya is thrilled to be performing in Sweeney Todd. Taiya would like to thank Debra Cross for helping her find this wonderful opportunity with Secondary Characters.
Sawyer Gordon
Ensemble Dancer
Sawyer is a Grade 8 French Immersion student at Vedder Middle School. Sawyer has been a competitive dancer for four years, and he recently joined the Creative Outlet team this season. Sawyer enjoys ballet, jazz, lyrical styles, and hip-hop, the latter of which he loves the most. Sawyer has been awarded the 'Judge's Pick' on several occasions, and he is currently working through the syllabus for the Royal Academy of Dance. When Sawyer isn't practicing at the studio, he can be found reading or eating.
Taya Edwards
Ensemble Dancer
Taya is a Grade 8 French Immersion student at Vedder Middle School. Taya has been dancing since she was six, and joined the Creative Outlet competitive team in 2016. Taya performed in The Nutcracker (Ballet Victoria) and has nearly completed her syllabus for the Royal Academy of Dance. Taya's favourite styles of dance are contemporary, hip-hop, and lyrical. When she's not dancing, Taya loves to bake, read, and camp. Taya is grateful for the opportunity to perform in Sweeney Todd. Taya would like to thank Debra Cross and all of her teachers for their support.
Creative Team
Steffi Munshaw
Director
A self-confessed student for life, Steffi holds a Diploma in Theatre Performance from Douglas College, a Bachelor of Fine Arts Degree with a Major in Theatre Performance from the School of Contemporary Arts at Simon Fraser University, and a Bachelor of Education with a Minor in Environmental Education also from SFU. When not moonlighting as a children's theatre director, Steffi spends her days teaching grade 4/5 for Squiala First Nation.
A prolific educator, Steffi has spent many years teaching theatre to youth in Chilliwack, the Fraser Valley, and as far away as Nunavut. Steffi has performed all over the Fraser Valley with Secondary Characters, Chilliwack Musical Theatre, the Chilliwack School of Performing Arts, the Fraser Valley Gilbert and Sullivan Society, Douglas College, Simon Fraser University, the University of the Fraser Valley, Troika Collective, and 591 Productions. Some of her favourite onstage performance credits include Jo (Little Women, Secondary Characters Musical Theatre), Maria (West Side Story, Chilliwack Musical Theatre), and Alice (the Alice, SFU School for Contemporary Arts). Performing everything from classics to contemporaries and from opera to absurdism, Steffi loves creating newly imagined works of art.
In what little spare time she has left, Steffi also loves working backstage in theatre having stage managed, dramaturged, artistic directed, directed, musical directed, and designed many shows in both Chilliwack and Vancouver. Recently, she has directed for Secondary Characters Musical Theatre including The Wizard of Oz and The Last Five Years which had a successful remount at both the RickRack in the 'Wack Festival and the Harrison Festival of the Arts. Steffi is resident production manager for Secondary Characters Musical Theatre and most recently set/props/costume designed and assistant directed their July 2018 production of The Hunchback of Notre Dame.
Shelley Wojcik
Choreographer
Shelley has been creating and performing musical theatre for over 20 years for various theatre companies and schools throughout  Chilliwack. Some of her favourites include Seussical (CSOPA), A Funny Thing Happened on the Way to the Forum(UFV), Into the Woods, The Hunchback of Notre Dame and most recently Mamma Mia! (Secondary Characters). Shelley is a science, theatre and education graduate from UFV,  is co-founder, artistic director and resident choreographer for Secondary Characters, and is currently teaching in the supported learning program at Squiala Secondary School.
Nicola Davies
Musical Director
Pianist Nicola Davies divides her time between opera & musical theatre, recitals, teaching, and working behind the scenes in the arts. Her theatre work encompasses well over thirty productions as music director and pianist, including Carmen with Opera Kelowna, La Bohème with Opera NUOVA as assistant conductor, and musicals with Secondary Characters, Gallery 7, and University of the Fraser Valley Theatre.  She freelances as a collaborative pianist, and has taught piano and voice for many years. 
Nicola has instigated various projects, including Secondary Characters Musical Theatre, for which she was Co-Artistic Director for nine years. She since became the Executive Director and Co-Founder of Living Room Live, an organization that creates tours of classical house concerts in homes and other intimate venues across western Canada.  
As a participant at the Vancouver International Song Institute and the Franz Schubert Institute in Austria, Nicola has studied with such teachers as Julius Drake, Roger Vignoles, Elly Ameling, and Margo Garrett. Formal studies have included a Masters in Collaborative Piano at the University of Manitoba with Dr. Laura Loewen and Dr. Judy Kehler Siebert, a Diploma in Voice Performance, a Certificate in Conducting, and a Bachelor of Science.
Michael Quaglia
Stage Manager
Michael is an undergraduate in the Bachelor of Science program at UFV and plans to pursue a career in zoology. Michael also works at the Greater Vancouver Zoo as a merchandising representative. Michael has assisted as a stagehand in Bye Bye Birdie (Newbury Art Concepts), For Groom the Bell Tolls (Richard Ogilvie), and The Music Man (Newbury Art Concepts). In recent years, Michael has stage managed for Secondary Characters' productions of The Hunchback of Notre Dame, The 25th Annual Putnam County Spelling Bee, and Sweeney Todd: The Demon Barber of Fleet Street. Michael would like to thank his family for their continued support, and Steffi and Shelley for the opportunity to stage manage another Secondary Characters production.