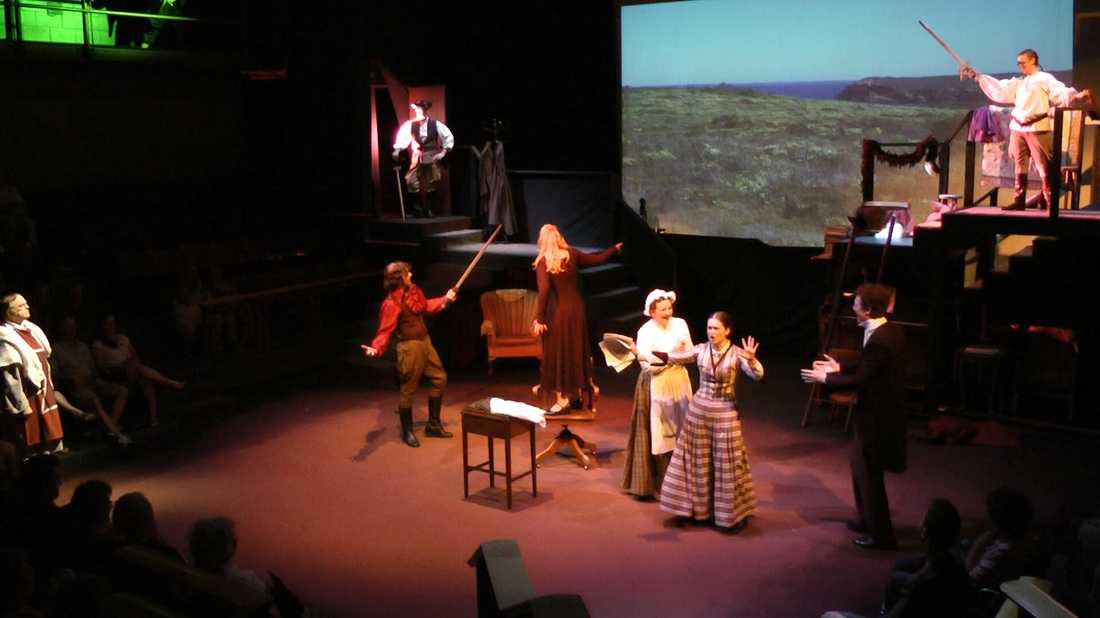 Little Women
Music by Jason Howland
Lyrics by Mindi Dickstein
Book by Allan Knee
July 2010
at the UFV Theatre
The classic story by Louisa May Alcott
Little Women is a classic tale that follows the lives of four very different sisters: Meg, Jo, Beth and Amy, who teach us about life as they learn to navigate their own. Along the way the girls befriend the 'neighbour boy' Laurie, welcoming him into their family circle while enjoying his boyish antics. They are guided by Marmee, their ever wise mother who understands that experience is the best teacher. Together their adventures range from creating stories and making new friends, to discovering new places and learning about love while all the while they give us a sense of family spirit that never dies.
July 2010
at the UFV Theatre
The classic story by Louisa May Alcott
Cast
Steffi Munshaw
Jo March
A self-confessed student for life, Steffi holds a Diploma in Theatre Performance from Douglas College, a Bachelor of Fine Arts Degree with a Major in Theatre Performance from the School of Contemporary Arts at Simon Fraser University, and a Bachelor of Education with a Minor in Environmental Education also from SFU. When not moonlighting as a children's theatre director, Steffi spends her days teaching grade 4/5 for Squiala First Nation.
A prolific educator, Steffi has spent many years teaching theatre to youth in Chilliwack, the Fraser Valley, and as far away as Nunavut. Steffi has performed all over the Fraser Valley with Secondary Characters, Chilliwack Musical Theatre, the Chilliwack School of Performing Arts, the Fraser Valley Gilbert and Sullivan Society, Douglas College, Simon Fraser University, the University of the Fraser Valley, Troika Collective, and 591 Productions. Some of her favourite onstage performance credits include Jo (Little Women, Secondary Characters Musical Theatre), Maria (West Side Story, Chilliwack Musical Theatre), and Alice (the Alice, SFU School for Contemporary Arts). Performing everything from classics to contemporaries and from opera to absurdism, Steffi loves creating newly imagined works of art.
In what little spare time she has left, Steffi also loves working backstage in theatre having stage managed, dramaturged, artistic directed, directed, musical directed, and designed many shows in both Chilliwack and Vancouver. Recently, she has directed for Secondary Characters Musical Theatre including The Wizard of Oz and The Last Five Years which had a successful remount at both the RickRack in the 'Wack Festival and the Harrison Festival of the Arts. Steffi is resident production manager for Secondary Characters Musical Theatre and most recently set/props/costume designed and assistant directed their July 2018 production of The Hunchback of Notre Dame.
Shelley Wojcik
Marmee March
Shelley has been creating and performing musical theatre for over 20 years for various theatre companies and schools throughout  Chilliwack. Some of her favourites include Seussical (CSOPA), A Funny Thing Happened on the Way to the Forum(UFV), Into the Woods, The Hunchback of Notre Dame and most recently Mamma Mia! (Secondary Characters). Shelley is a science, theatre and education graduate from UFV,  is co-founder, artistic director and resident choreographer for Secondary Characters, and is currently teaching in the supported learning program at Squiala Secondary School.
Katrina Barson
Amy March
A true triple threat, Katrina has been performing since her early childhood in school productions (Muzzy – Thoroughly Modern Millie, GW Graham Theatre) and at the Chilliwack School of Performing Arts (Belle – Beauty and the Beast, Winnifred – Once Upon a Mattress, Asaka – Once On This Island). You may also know her from some of her community performances with Secondary Characters (Little Red – Into the Woods, Amy – Little Women), Newbury Arts Concepts (Rosie – Bye Bye Birdie) and Theatre Junkies (Gift of the Magi).
Not only a prolific performer, Katrina also works passionately backstage and has stage-managed, assisted with choreography, and managed both props and costumes for many local arts groups, as well as many years of teaching theatre to youth. After high school graduation, Katrina moved to Toronto to study theatre where she was accepted by both the Music Theatre Performance Program at Sheridan College and the Randolph Academy of Dramatic Arts. She moved back to Chilliwack to pursue her passion of creating professional quality theatrical performances for small town venues and audiences. Katrina is very excited to be making her choreography debut with Secondary Characters and hopes to use her multi-talented skills as a performer to help mentor the cast of Oklahoma!
Caroline Davies
Beth March
Kris Ward
John Brooke
Kris is both an enthusiastic perform and avid woodworker. He combines these two passions as Secondary Characters' resident Set Designer, having designed and built Notre Dame Cathedral for The Hunchback of Notre Dame and this year's set for The 25th Annual Putnam County Spelling Bee. Some of Kris' favourite onstage credits have included St. Aphrodisius (Hunchback of Notre Dame) and the villainous aristocrat, Braxton Prendergast as well as the timid Mr. Lawrence (Little Women). When not working backstage on shows, Kris has been working on his Cabinetmaker Apprenticeship through both North Island College and BCIT.