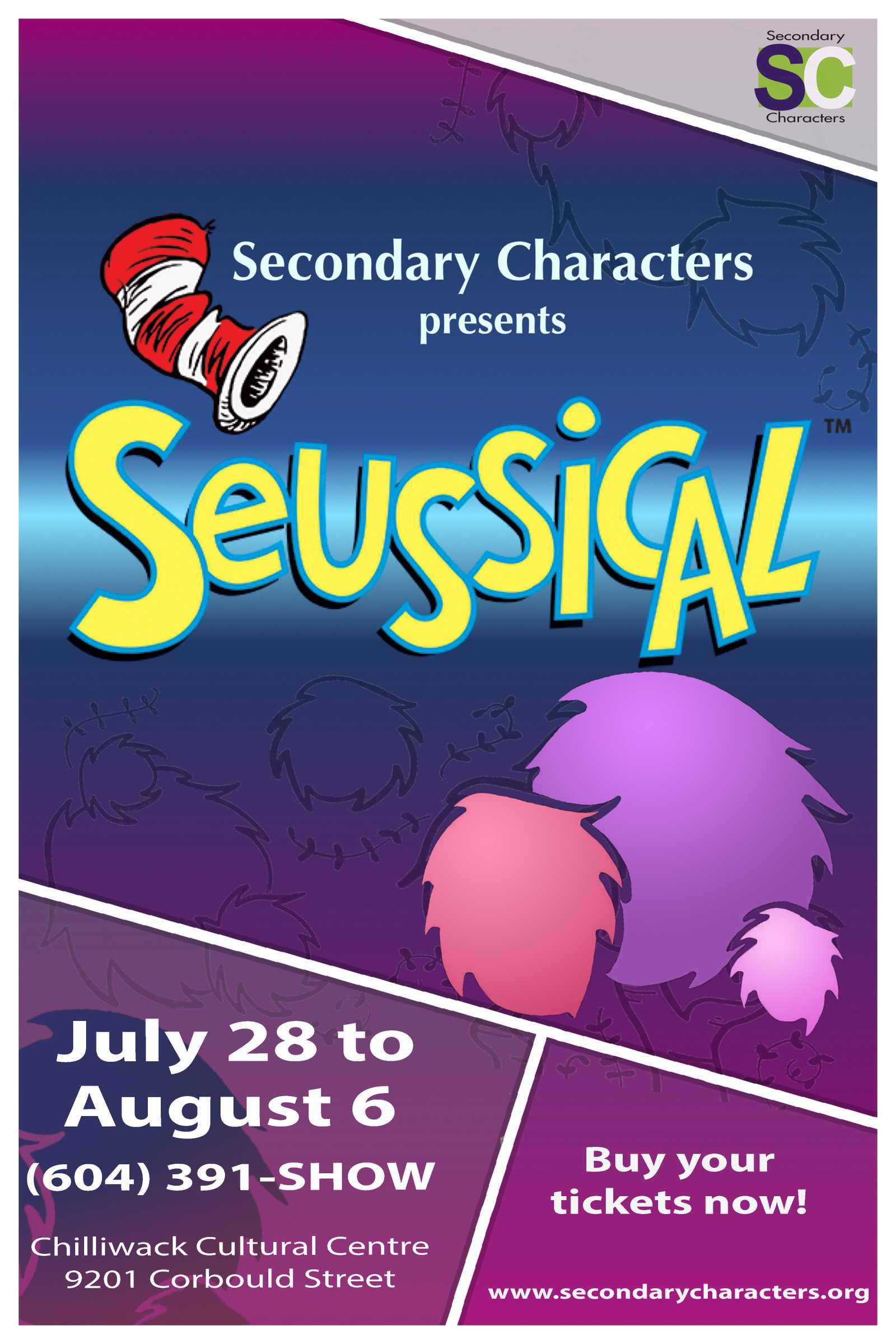 Seussical
July 28 to August 6
Book by Lynn Ahrens and Stephen Flaherty
Music by Stephen Flaherty
Lyrics by Lynn Ahrens
Co-Conceived by Eric Idle
Based on the works of Dr. Seuss
July 28th to August 6th
at the Chilliwack Cultural Centre
Oh, the Thinks you can Think!
The Cat in the Hat tells the story of Horton, an elephant who discovers a speck of dust that contains the Whos, including Jojo, a Who child sent off to military school for thinking too many "thinks." Horton faces a double challenge: not only must they protect the Whos from a world of naysayers and dangers, but they must guard an abandoned egg, left in their care by the irresponsible Mayzie La Bird. Although Horton faces ridicule, danger, kidnapping and a trial, the intrepid Gertrude McFuzz never loses faith in them. Ultimately, the powers of friendship, loyalty, family and community are challenged and emerge triumphant.
Creative Team
Shelley Wojcik
Director/Choreographer
Shelley has been creating and performing musical theatre for over 20 years for various theatre companies and schools throughout  Chilliwack. Some of her favourites include Seussical (CSOPA), A Funny Thing Happened on the Way to the Forum(UFV), Into the Woods, The Hunchback of Notre Dame and most recently Mamma Mia! (Secondary Characters). Shelley is a science, theatre and education graduate from UFV,  is co-founder, artistic director and resident choreographer for Secondary Characters, and is currently teaching in the supported learning program at Squiala Secondary School.
Stefanie Swinnard
Vocal Director
Stefanie is thrilled to be performing in Chilliwack, her hometown, again. An award-winning classical and musical theatre vocalist, Stefanie grew up performing in Chilliwack for more than 15 years and has performed with many companies in the lower mainland, including Theatre Under the Stars and Royal City Musical Theatre. Stefanie is an honours graduate of both the University of the Fraser Valley and Douglas College Theatre and Music programs, respectively. In 2013, Stefanie founded the The Stage Musical Theatre Academy in New Westminster in hopes that she could continue to enhance the lives of young people through the arts.
Ann Matterson
Co-Choreographer
Ann is a Vancouver-based choreographer, singer, performer, and performing arts teacher majoring in jazz and contemporary voice at Vancouver Community College. She is very excited to be making her Secondary Characters debut as choreographer on the production team, and as Ali in the production. Ann has been involved in various productions across the Lower Mainland since moving here in 2009. Most recently, she has been on the choreography team for Spamalot and Robinson Crusoe (White Rock Players Club), and Little Shop Of Horrors (Delta Secondary Theatre Company), as well as performing with White Rock Players Club in each. Previously, she has been involved in performances with Delta Youth Theatre (Elf, The Little Mermaid, Willy Wonka, Mary Poppins, Music Man) and Delta Secondary Theatre Company (Grease, Aladdin, Great American Musical Disaster, Urinetown). Previous choreography works include Oliver and The 25th Annual Putnam County Spelling Bee (Delta Secondary Theatre Company). She would like to thank her parents for the endless support and hopes you enjoy the show.
Michael Quaglia
Stage Manager
Michael is an undergraduate in the Bachelor of Science program at UFV and plans to pursue a career in zoology. Michael also works at the Greater Vancouver Zoo as a merchandising representative. Michael has assisted as a stagehand in Bye Bye Birdie (Newbury Art Concepts), For Groom the Bell Tolls (Richard Ogilvie), and The Music Man (Newbury Art Concepts). In recent years, Michael has stage managed for Secondary Characters' productions of The Hunchback of Notre Dame, The 25th Annual Putnam County Spelling Bee, and Sweeney Todd: The Demon Barber of Fleet Street. Michael would like to thank his family for their continued support, and Steffi and Shelley for the opportunity to stage manage another Secondary Characters production.
Steffi Munshaw
Costume Designer
A self-confessed student for life, Steffi holds a Diploma in Theatre Performance from Douglas College, a Bachelor of Fine Arts Degree with a Major in Theatre Performance from the School of Contemporary Arts at Simon Fraser University, and a Bachelor of Education with a Minor in Environmental Education also from SFU. When not moonlighting as a children's theatre director, Steffi spends her days teaching grade 4/5 for Squiala First Nation.
A prolific educator, Steffi has spent many years teaching theatre to youth in Chilliwack, the Fraser Valley, and as far away as Nunavut. Steffi has performed all over the Fraser Valley with Secondary Characters, Chilliwack Musical Theatre, the Chilliwack School of Performing Arts, the Fraser Valley Gilbert and Sullivan Society, Douglas College, Simon Fraser University, the University of the Fraser Valley, Troika Collective, and 591 Productions. Some of her favourite onstage performance credits include Jo (Little Women, Secondary Characters Musical Theatre), Maria (West Side Story, Chilliwack Musical Theatre), and Alice (the Alice, SFU School for Contemporary Arts). Performing everything from classics to contemporaries and from opera to absurdism, Steffi loves creating newly imagined works of art.
In what little spare time she has left, Steffi also loves working backstage in theatre having stage managed, dramaturged, artistic directed, directed, musical directed, and designed many shows in both Chilliwack and Vancouver. Recently, she has directed for Secondary Characters Musical Theatre including The Wizard of Oz and The Last Five Years which had a successful remount at both the RickRack in the 'Wack Festival and the Harrison Festival of the Arts. Steffi is resident production manager for Secondary Characters Musical Theatre and most recently set/props/costume designed and assistant directed their July 2018 production of The Hunchback of Notre Dame.
Darren Burkett
Set Designer
Darren is thrilled to be on the other side of the stage with Secondary Characters' Mamma Mia! Darren has been doing lighting and set design for 15 years for various dance schools and theatre programs around the lower mainland, and he is thrilled to be able to stretch those muscles further with this amazing production. As an actor, he has worked across Canada with such theatre companies as Stage West Theatre, Drayton Entertainment, Canadian Opera Company, The Ross Petty Panto, Globe Theatre, Western Canada Theatre, Thousand Island Playhouse, The Arts Club, Chemainus Theatre Festival, and Carousel Theatre for Young Audiences. He has also been honoured to have been in the National Tour/Mirvish production of Matilda, the International Tour of Angelina Ballerina, and to have won a Jessie Award for his performance as 'Snail' in A Year with Frog and Toad. Many thanks to Shelley and Steffi for this opportunity, and to Hunter, and his family and friends for their never ending love and support!
Nicola Davies
Orchestral Conductor
Pianist Nicola Davies divides her time between opera & musical theatre, recitals, teaching, and working behind the scenes in the arts. Her theatre work encompasses well over thirty productions as music director and pianist, including Carmen with Opera Kelowna, La Bohème with Opera NUOVA as assistant conductor, and musicals with Secondary Characters, Gallery 7, and University of the Fraser Valley Theatre.  She freelances as a collaborative pianist, and has taught piano and voice for many years. 
Nicola has instigated various projects, including Secondary Characters Musical Theatre, for which she was Co-Artistic Director for nine years. She since became the Executive Director and Co-Founder of Living Room Live, an organization that creates tours of classical house concerts in homes and other intimate venues across western Canada.  
As a participant at the Vancouver International Song Institute and the Franz Schubert Institute in Austria, Nicola has studied with such teachers as Julius Drake, Roger Vignoles, Elly Ameling, and Margo Garrett. Formal studies have included a Masters in Collaborative Piano at the University of Manitoba with Dr. Laura Loewen and Dr. Judy Kehler Siebert, a Diploma in Voice Performance, a Certificate in Conducting, and a Bachelor of Science.